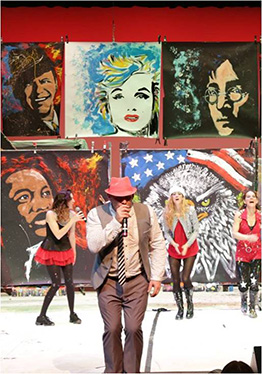 Wednesday, April 19, 2017
An evening of art, music and bubblewrap. A troupe of Artists, Singers, Dancers burst onto the stage in a wildly creative celebration of the arts. An evening filled with music and images from Lennon to Elvis to Hendrix where giant artwork jumps to life with amazing speed. Continued interaction with audience. Family show (Student Outreach)
The roots of Artrageous were set years ago by a group of hardworking friends looking to explore the Arts and to travel and experience the world.
20 plus years and over 2500 national and international performances later, these same friends who started as Street Performers on Granville Island in Vancouver, have come full circle and back to their roots to create Artrageous. Artrageous is truly a unique show. Where in one place can you participate in an experience that includes a team of artists, singers, dancers, Bunraku puppeteers and – most importantly – audience involvement and interaction?
Our troupe is based in the high desert mountains of New Mexico, between Santa Fe & Albuquerque, where we have our campus, complete with a recording studio, offices and rehearsal spaces (and a huge garden).
We have been fortunate enough to realize our vision and to have a life revolving around entertaining and travel and, with your kind assistance and attention, create a wonderful, energetic and inclusive experience for those who love the Arts.