Thursday, February 8, 2018
Return engagement by popular demand. Formed in 1943 during the siege of Leningrad. Took part in the cultural programs for the Olympic Games in Munich, Montreal, and Moscow. Repertoire includes folk, classical, Broadway, waltzes and Rock. 35 musicians.
For show tickets, call 570-788-4864.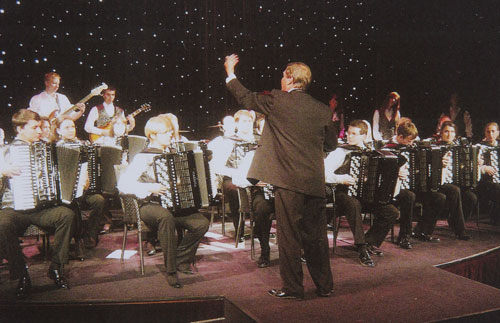 Accordion Virtuosi of Russia was founded in 1943 during the Leningrad siege by Professor Pavel Smirnov. Within only six months, the ensemble was invited to record on the state radio. Since its inception, Accordion Virtuosi of Russia has been led by three generations of the Smirnov family: first by its founder Pavel Smirnov, and now by his sons Yuri and Vladimir, as well as his grandson Yaroslav.
Throughout its history, Accordion Virtuosi of Russia has performed at some of the most prestigious venues in the world including the Gewandhaus, Verona's Arena, Olympia Hall in Paris, and the Great Philharmonic Hall in St. Petersburg. They have toured extensively in Germany, Italy, France, Holland, Switzerland, Belgium, Austria, Norway, Denmark, Finland, Greece, Spain, Japan, Guinea, Angola, Sierra Leon, Congo, Japan, Canada and elsewhere. In the United States the Accordion Virtuosi have performed in Washington, DC, Florida, Georgia, Texas, Tennessee, New Jersey, Michigan, Wisconsin, Pennsylvania, Indiana, and Illinois.
Accordion Virtuosi of Russia is a winner of numerous competitions in Russia such as "Musical Carousel" and "Peter-Pavel Assemblies". Most recently, the Accordion Virutosi of Russia has been included in the prestigious "Golden Book of St. Petersburg" for its achievements in arts and was also named "Best accordion orchestra of Europe of 2013" by orchestra society "EU Musika" in Frankfurt, Germany.
This outstanding ensemble was invited to be a part of the cultural program for the Olympic Games in Munich in 1972, Montreal in 1976, and Moscow in 1980.
The ensemble's repertoire ranges from folk music to arrangements of rock songs and continues to astound audiences around the world.
www.artsmg.com/accordion-virtuosi-of-russia
Accordion Virtuosi of Russia YouTube channel