Friday, November 16, 2018
Mash up music, nationally recognized pop vocal quartet group, uniquely interweave today's Top 40 hits with reimagined classics of the last six decades by blending songs of favorite artists, show brings a staggering 70 songs, timeless hits, today's sound.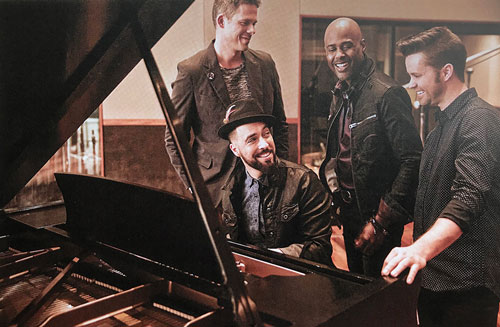 THE COMPANY MEN are a nationally recognized pop vocal group which has performed over a 1000 shows around the world. They are a highly sought after live entertainment act in the performing arts center market, the private event market, the casino market, festival market and have enjoyed a residency for the past two years on Norwegian Cruise Line's flagship The Escape. The have also appeared on numerous national/regional television shows, such as Hallmark's Home and Family, Good Day New York and the SoCal PBS Holiday Special to name a few. They have shared stages with legendary artists, such as Mariah Carey, Colbie Caillat, Daughtry, Chaka Khan, Natalie Cole and most recently Billy Idol and Sheena Easton.
Unlike any other four-man vocal group touring today, THE COMPANY MEN uniquely interweave today's Top 40 hits with re-imagined classics of the last six decades, blending songs by some of your favorite artists including Sam Smith, The Four Tops, Michael Jackson, Katy Perry, Adele, The Temptations, Sam Cooke, The Weeknd, Billy Joel, Prince, Meghan Trainor, Bruno Mars, Michael Bublé, Nick Jonas, The Eagles and many more. Their show A NIGHT OF HITS has one of the widest demographic appeals of any show on tour today and brings the audience a staggering 70+ songs in just 90 minutes!
In addition to A NIGHT OF HITS , THE COMPANY MEN will incorporate many of your favorite holiday hits into their new HOLIDAY SHOW. Done in their signature mashup style, these holiday hits are fun for the whole family. You will hear songs such as Happy Holidays, Jingle Bell Rock, White Christmas, I'll Be Home for Christmas, Winter Wonderland, Merry Christmas Darlin, There's No Place Like Home and many others.
Featuring a roster of seasoned performers who have appeared on NBC's the VOICE, the Emmy Award winning NBC mini-series, The Temptations and in numerous Broadway and National Touring productions (Hairspray, The Lion King, Jesus Christ Superstar, Camelot and Hair), THE COMPANY MEN bring an unparalleled level of talent to every show. With their throwback sound, smooth Motown moves and an incredible all-star band, THE COMPANY MEN are ready bring you an unforgettable evening of entertainment.