Monday, August 17, 2020
Featuring the silky voice of Canada's Marc Devigne and the sultry sweetness of Adi Cohen, the runner-up of the Israeli edition of American Idol, timeless pop standards and Latin jazz interpreted with emotional punch, a most beautiful international repertoire will be presented.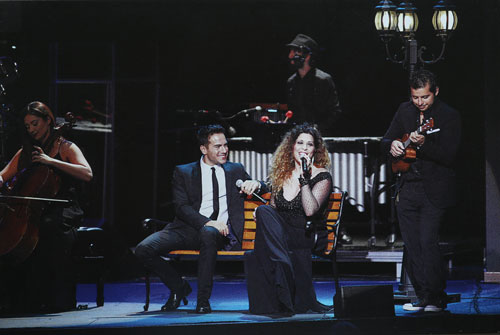 Sung in four different languages. Hear "Volare," "Nature Boy," "As Time Goes By," "Quando, Quando," "Moon River." Produced and directed by world-renowned Tomer Adaddi.
Tomer Adaddi
Composer, pianist, arranger and musical producer Tomer Adaddi was born in Israel in 1983. He finished his Masters in composition at Mannes College of Music in New York City, where he was the reipient of the Felix Saltzer Techniques of Music Award 2011. He graduated from the Jerusalem Academy of Music in 2009. In 2010, Adaddi composed and arranged the song "Milim" (Words) for Harel Skaat, representing Israel in the famous Eurovision Song Contest and winning 3 Marcel Bezençon Awards, including the Composer Award. He has also composed songs for famous Israeli singers such as Harel Skaat, Boaz Shara'abi, Shlomi Shabat, former Israeli Eurovision winner Izhar Cohen and former Eurovision representatives Shiri Maimon (2005) and Ilanit (1973,1977).
Tomer accompanied Israeli singer Rita for three years as a pianist. He has musically produced albums for different Israeli singers such as Ilanit, Shai Gabso, Boaz Shara'abi and others. Internationally, in 2007, he arranged and conducted the "Jerry Lewis Telethon Orchestra" in Las Vegas for singer Liel. In 2008, Tomer musically produced and arranged the 10th anniversary of the Peres Peace Center honoring Israel's President Shimon Peres, working with international artists such as Andrea Bocceli, Mercedes Sossa, Elliott Yamin, Dave Koz and others. Tomer worked with the legendary band "The Scorpions", performing their famous hit "Send Me an Angel" all over the world. Recently, he arranged and orchestrated Leonard Cohen's "Hallelujah" for the album of "The Canadian Tenors" published nationwide by Universal music. He is currently working with American rising star Karina Pasian, together with the legendary Grammy-winner producer Barry Eastmond. Tomer has composed several symphonic and chamber works and conducted for different orchestras around the world. His piece "Integration for Orchestra" won the Bohuslav Martinů award at Mannes College of Music (NYC) and was premiered by the Israeli Chamber Orchestra at the Zlilim Bamidbar Festival (Sounds in the Desert) 2010. Recently, Tomer's Piano Concerto no.1 was premiered in New York City at Mannes Concert Hall by Pianist Natalie Tenenbaum and Conductor Isaac Selya with the Mannes "Green" Orchestra. Tomer composed music for several film projects, including the award- winning short film "Reverie", directed by Chris Dawson, which was chosen to be part of Cannes Festival Short Film Corner 2010.
Adi Cohen
An award-winning Israeli singer and actress that got famous being the runner up in the 2nd season of the Israeli Idol TV show "Kochav Nolad" .
After the TV show, Adi worked in the national Theatre of Israel in several plays and musicals such as Cabaret, Aida and others.
Adi was invited to perform all over the world including India, The Philippines, USA, Germany and Spain in world renowned festivals and TV shows, as well as the musicians convention in Cannes, France and the Martinez concert in front of music industry executives.
Because of her unique stage presence and powerful voice, Adi was invited to sing for president Peres in the international presidents convention in Jerusalem, singing for world leaders such as president Bush and world leaders, airing on international TV stations all over the world.
In 2013 Adi was chosen by the Israeli Embassy of America and the White House staff to open the historic event singing in front of president Barak Obama with the Israeli National Anthem.
Marc Devigne
A prairie boy originally from Winnipeg Manitoba, Marc Devigne is a diversely experienced Canadian singer, songwriter, musical theatre performer and actor currently residing in Toronto. With well-rounded experience that started all the way back from being a finalist on "Canadian Idol", to international touring with various theatre companies and session work as a studio vocalist, Marc has a strong passion for music and performing in general. Marc's stage presence and performance experience has afforded him the opportunity to appear on 2 PBS specials; a Mark Masri PBS special, as well as "Bailamos! Live at the Empire". His captivating on-stage energy is a testament to his broad range of Musical Theatre experience, with favourites roles including "Prince Eric' in Disney's The Little Mermaid, and "Mark" in RENT the musical. He has also performed as a featured soloist in many Symphonic and Orchestral concerts in Canada and abroad. He has toured internationally as a Vocalist for various musical groups, such as the latin-themed cross-over group "Bailamos", the high energy latin infused duo "Synco Romantico", the vocal pop group "Citizen West and the popera group "Vivace", displaying an impressive ability to perform in almost any genre. Marc has also performed with some of Broadway's current leading ladies such Les Miserables and Pretty Woman's "Samantha Barks" and Beautiful the Carol King Musical's Chilina Kennedy. With all of this under his belt, Marc Devigne is a multi- disciplinary entertainer to be reckoned with. Most recently, he is now focusing on writing and developing his own solo project with the hopes of releasing a French album later this year.