Friday, September 11, 2020
The group begins at the beginning tracing the evolution of Doo Wop from the classic sound of five guys singing tight harmonies on a street corner to the biggest radio hits of all time.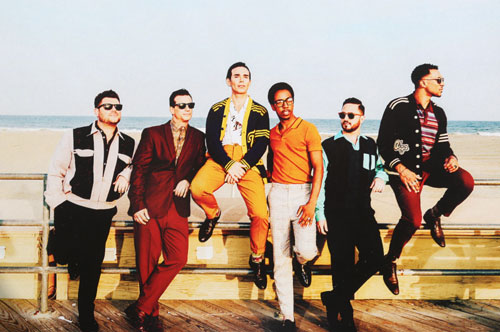 DWP takes you on a journey from groups like the Crests, Belmonts, Flamingos, Smokey Robinson, and The Four Freshmen through DooWopified versions of Michael Jackson, Jason Mraz and Maroon 5. Featuring current and former stars of Broadway's smash hits Jersey Boys and Motown. Unparalleled authenticity of sound.
Dominic Nofli
Dominic is currently performing on Broadway in Chazz Palmenteri's A Bronx Tale – The Musical, directed by Robert DeNero and Jerry Zaks. As an Original Cast member of A Bronx Tale, Motown: The Musical (Grammy nominated) and Jersey Boys (Grammy Award for Best Cast Album), he can be heard on all three soundtracks. Dominic also performed in the World Premiere productions of A Bronx Tale and Jersey Boys at the Paper Mill Playhouse and the La Jolla Playhouse, respectfully. Dom was born and raised in San Francisco where he studied youth acting at ACT and performed annually in their production of A Christmas Carol. He studied voice at the San Francisco Conservatory, and attended the Boston Conservatory on scholarship where he graduated with a BFA in Theater. Upon graduating Dominic joined the European production of Grease. It was there that he met his future wife Sonia Iannetti; they have a daughter Vivienne.
Charl Brown
Charl originated the role of Smokey Robinson in Motown: The Musical, garnering a nomination for a 2013 Tony Award for Best Featured Actor in a Musical on Broadway. He is also featured on the Motown Grammy Nominated Original Broadway Cast recording, and recently returned from 6 months in London's West End reprising his Smokey Robinson role. In 2014 Charl worked with legendary composer Steven Schwartz playing the role of Adam/Noah in Children of Eden at the Kennedy Center in Washington D.C. Other credits include Jersey Boys on Broadway, Hair in Europe, Ever After, Johnny Baseball, Dreamgirls, Six Degrees of Separation, Jesus Christ Superstar, A Chorus Line, and Star Wars Trilogy in 30 Minutes at Edinburg Fringe Festival. Charl has also appeared on television on Madam Secretary, Britain's Got Talent, America's Got Talent, Macy's 85th and 86th Thanksgiving Day Parade, 63rd Tony Awards and A Capitol 4th. He is a proud Graduate of the University of Southern California School of Theater.
Dominic Scaglione, Jr.
Dominic is best known for his starring role portraying Frankie Valli in Jersey Bous on Broadway. He previously played leading role in the Las Vegas and Chicago companies. He performed on the Oprah Winfrey show and was personally asked by Frankie Valli to sing at his New Jersey Hall of Fame induction ceremony. Early on in his career Dominic was a member of the Sony music group called Sygnature and toured with the like of Christine Aguilera, Destiny's Child, Beyonce, Robin Thicke and Boyz 2 Men. He is proud to be one of the creators of The Doo Wop Project and marvels at how far this little idea has come.
Russell Fischer
Standing five-foot-six with a tenor voice and falsetto range, Fischer landed the role of Joe Pesci in the Broadway Company of Jersey Boys on his 22nd birthday, making his Broadway debut. He spent the next six years as an understudy for the role of Frankie Valli a well. Fischer starred in the second national tour of Big: The Musical as Billy Kapecki. His regional credits include Tommy Smith in Thoroughly Modern Millie, Tommy Djelas in the Music Man at Chautauqua Opera, this American premier of Children of Eden at the Paper Mill Playhouse, and Tommy Swank in Baby Fat, Act 1: A Rock Opera based on Verdi's Rigoletto at LaMama Experimental Theater Club in Manhattan. On television Fischer has appeared on the live broadcast of the 2015 Belmont Stakes, the 2000 Tony Awards, and several spots for TV Land's 60 Second Sitcoms. He is truly grateful for the opportunity to tour with the group, sharing this music with audiences around the world.
Dwayne Cooper
Dwayne (The Bass) is from Florida, SC and currently lives in New York City. He first began singing with a Christian a cappella group called "The Cunningham Singers." Often referred to as a modern day Sammy Davis, Jr. meets Barry White, he is what the industry calls a "triple threat" and has performed in the Broadway cast of Motown: The Musical, Hairspray, and several national tours, including Smokey Joe's Café and Showboat. As a songwriter/producer, he has charted on Billboard's Top Ten Dance chart and a sketch comedy writer YouTube videos have been viewed millions of times. Dwayne's film and television credits include Law and Order, Unbreakable Kimmy Schmidt, Different People and RuPaul's Drag Race. Much love and thanks to family, friends and fans for their support!